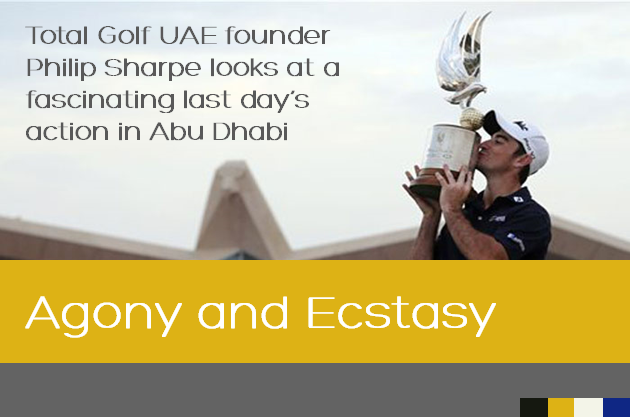 Agony and Ecstacy
In some respects, golf is quite a predictable game. For example, it's predictable that my first tee of the day will find the rough, that I'll miss a putt inside 3ft every round and if that i've played well through 14 holes i'll finish double bogey, bogey, triple bogey, bogey.
But at times, such as was witnessed in Abu Dhabi last week, golf produces a surprise that is almost beyond comprehension. One which leaves the participants, the commentators, the media and the fans all scratching their heads asking "am I really seeing this?". The "perfect-storm" of events that came together on the National course (disastrously or perfectly, depending on who you are) serves to remind us that there is no such thing as a "final round procession" in golf. The golfing gods giveth, as they say, and as Martin Kaymer learned to his dismay, they also taketh-away.
Before the final round – and indeed, halfway through the final round – the average golf fan would be forgiven for not having heard of Frenchman Gary Stal. At the same time, you don't even need to be a golf fan to have heard of Martin Kaymer.
Entering the final day's play, Martin Kaymer held an 8 shot advantage over Gary Stal, but at that stage that was irrelevant - Stal wasn't even being considered a contender. In fact, no-one was. After all, Kaymer held a 6 shot advantage over the entire field. And this wasn't just "any old player" on "any old course". This was Martin Kaymer, at the Abu Dhabi HSBC Championship. He's won here 3 times between 2008 and 2011, a period which also saw him win the PGA Championship (plus 6 other tournaments) and rise to be ranked the number 1 golfer in the world. He is the current US Open champion, and ranked world number 12.
So Sunday's final round was billed as – and to be fair, should have been – a victory parade. And when Kaymer added 3 birdies in the first 4 holes, his lead over the field had extended to 10 shots. Rarely, in any tournament, will a player hold such a commanding lead. 14 holes to play, a 10 shot advantage…and Kaymer had gone 47 holes without a bogey. All the evidence suggested that this tournament was finished. Except...it wasn't.
A few holes ahead of Kaymer, many players were coming-into and dropping-out-of contentition, but two players in particular were looking the most likely to pounce should the great German stutter. It was no surprise that Rory McIlroy, world number 1 and current USPGA and Open champion was making his move, turning in 34 and starting the back-9 with a birdie at the 10th. But it was unknown Frenchman Gary Stal, world ranked 357, who emerged as the main threat. After rounds of 68, 69 and 67, Stal quietly went about his business on the final day and turned in 32 shots…and that was just minutes before the cracks started to appear for Martin Kaymer.
After bogeying the 6th, Kaymer made a double bogey at the long, difficult par 4 9th hole. On the surface, this still didn't appear to be much of a problem. But with Stal and McIlroy picking up shots, and Kaymer now dropping them, the gap was closing, and fast. Entering the back 9, both McIlroy and Stal picked up early shots, while Kaymer had to be content with three straight pars. But it was at the 13th hole that the tournament would really be thrown wide open. Selecting driver off the tee, Kaymer found an unplayable lie, took a drop and was unable to hit the green with his subsequent approach. His head now clearly scrambled, Kaymer proceeded to "fat" a routine pitch shot and went on to finish the hole a triple-bogey 7. On that same hole, Stal made a 3. A four shot swing, in a single hole.
For probably the first time in his Abu Dhabi HSBC Championship career, Kaymer didn't record a single birdie in 9 holes of golf, and he finished with a back 9 of 39 shots. To put that in perspective, his opening-round back nine totalled just 31 shots. Kaymer's final round total of 75 was the joint-worst for any player in the field on the day. This stuff just doesn't happen, right? Gary Stal closed with a final round 65, to record an unlikely but very well deserved one-shot victory over Rory McIlroy. Martin Kaymer, clearly shell-shocked, would eventually limp home in 3rd postition. Normally that's a good result in such a high-profile tournament. But to Kaymer, it would have felt like finishing last.
A recent graduate from the Challenge Tour, where he had picked up two victories, Gary Stal's previous best finish on the main tour was 5th…and that was only last week in South Africa. His victory in Adbu Dhabi not only earned him €379,798, but it secures him the comfort of a 2-year exemption on the European Tour, took him to 3rd in the Race to Dubai rankings and saw him climb a whopping 254 places in the world ranking, to 103rd. But more than that, it earns him a place in history. He will forever have his named etched on to the famous Falcon Trophy...on the 10th anniversary of the event, no less.
Sadly for both players, this tournament will be remembered for Kaymer's collapse rather than Stal's fabulous four rounds. But the lessons I take away from the 4 days are these: even the best players are vulnerable to the enormous pressure of tournament play, that you don't need a perfect swing to win golf tournaments and that at the Abu Dhabi HSBC Championship, you really should expect the #ADunexpected.