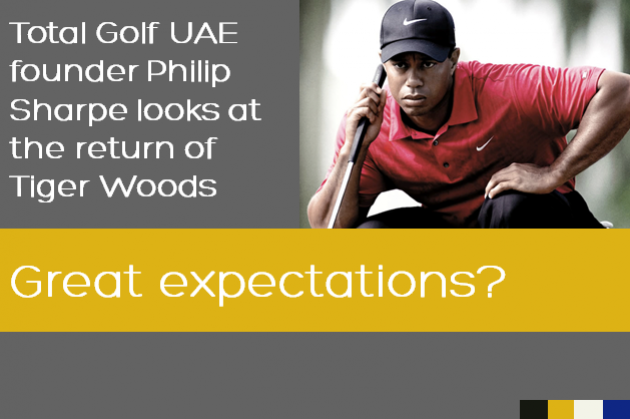 Tiger Woods : Great Expectations?
What's wrong with Tiger Woods? His knee? His back? The continued emotional stress from his very public fall-from-grace? Perhaps it's all of these things – there's little argument that each has played a significant part in Woods' decline in the last 5 years or so. But there's another factor at play – one more powerful than any of those already mentioned: expectation.
Tiger's latest "comeback" came this weekend at the Hero World Challenge at Isleworth, a tournament that he hosts and which he has won no less than 5 times. It was his first tournament since he missed the cut at the PGA Championship in August, and the first under the stewardship of new swing coach Chris Como. After an opening round 77 left him 4 shots adrift of the next player on the leaderboard, Tiger bounced back with rounds of 70, 69 and 72 to finish tied 17th. Unfortunately, there were only 18 players in the field…
Notice my last line there? A sarcastic remark. A funny comment. Trawl through the internet today and you'll find plenty of websites and experts making similar jokes, especially at the expense of Tiger's uncharacteristically weak short game. But in a strange way, those jokes are actually compliments. Tiger's short-game failings this week are exaggerated by the fact that he is arguably the greatest short-game player of all time. When people point out his recent poor fairway-in-regulation stats, it's mainly because there was a time, not so long ago, when Tiger drove the ball futher and straighter than anyone. The pundits don't vilify the middle-of-the-road tour professionals for having weak GIR, FIR or scrambling stats because that's what they expect. But it's not what they expect from a guy who's topped virtually every golf statistic there is, broken every record (except one) and who stands as arguably the greatest player the game has ever known.
The media's demand for a competitive Tiger Woods is fuelled in no small part by the player himself. After finishing the tournament at Isleworth, Tiger was a little more circumspect than he has been on previous occasions, and stated that he was simply pleased to be able to finish the 4 rounds pain-free. "First things first: playing tournament golf without being in pain, without having to call my physio every day or having to put out fires with my body, swing-wise,'' Woods said "It was nice to be able to hit the ball the way I did this week''. Of his short game, he simply said "from about 40 yards out it's pretty solid. I hit those shots really well. Anything inside of that, I have to get used to. It's a different release pattern, and so my chipping is off, putting is just a touch off".
This is a very philosophical Tiger Woods. On the surface, and to the media, he'll still say that he's playing to win – and that's actually true – but inside he'll be content to take small steps each week to prove to himself that his mental and physical strength is up to the task. Tiger Woods is a born competitor, and in his pomp he was ruthless in the manner in which he destroyed fields to claim…wait for it…79 PGA Tours wins, 40 European Tour wins, 18 WGC's and 14 majors. That player still exists, at least he does in Tiger's head…and at this point i'm going to take you back to the word I used at the start of this blog: expectation.
The problem for Tiger is expectation, both what he expects of himself, and what the rest of the golfing world expects from him. Golf wants and needs a competitive Tiger Woods…but what does that mean? Does competitive mean he wins 4 more majors to tie Jack's record? Does it means he wins 3 or 4 events per season and tops the Fedex Cup? On all counts, probably not. But the question is this: can Tiger, and media and the viewing public be happy with that? Can we all accept that, at 38 (39 on 30th December) and with an ailing body that he needs to protect, Tiger Woods simply cannot now reach and maintain the exceptionally high standards that he himself set in his glory years? The game has moved on, fields are stronger, players are younger. Jordan Speith, winner at the Hero World Challenge, not only finished 26 shots ahead of Tiger, but 10 shots ahead of anyone else in the field…and he's only 21!
Can we accept that "competitive" might mean the odd win, a few top 25's per season, a top 10 in a major every couple of years? We will be content to see Tiger create moments of outrageous brilliance one minute, and flub a chip-shot the next? Can we cope with the reality that this once unbeatable colossus of the game is now a name we'll see nearer the middle of the leaderboard than the top?
Golf probably can accept all that – we can lower our expectations. Sure, there are many pundits and fans who are glad to see Tiger fall from his perch, who wish he would slip away into the night and never come back. But for most fans, this one included, we want to see Tiger out there. He creates a buzz, he pulls in the fans. Love him or loathe him, big tournaments aren't the same when he's not there. Golf isn't quite the same. He can still do things that no one else can.
But the final question is this: the world of golf can likely accept a "compromised" Tiger Woods. But can the man himself? Can this fiercely competitive player, so used to being the star attraction, so used to topping leader boards and lifting trophies…can he keep playing if he can't reach his own exceptionally high standards? Does he have the mental strength to be someone who plays for the love of the game, rather than the love of the victory? Can he become an also-ran?
It's all about managing expectation. I for one hope he can.